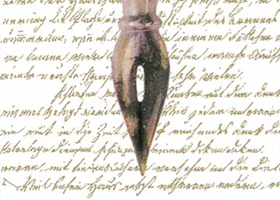 Romantic poems in profusion
The romantic idea par excellence is to express feelings in a poem. But what to do when you don't have inspiration? The team of Romantic ideas, in co-operation with English-speaking professional writers has found the solution! You can book for your beloved a tailor-made poem and let talk your heart!
The one who can't write like Shakespeare, Victor Hugo or Goethe doesn't have to abandon the idea of declaring his love to her in a poetic way, because a poem is the base for the expression of feelings. Don't hesitate to give us your projects, tell us in which occasion you want to write or declare your poem and talk about yourself, about the addressee of this lovely gift and about the special event you want to celebrate with this love poem. Our professional writers will make, thanks to their poet talent, a unique, personalized and unforgettable gift!
About our romantic poems
A romantic poem is a unique gift idea perfectly appropriate to following opportunities:
To declare his love to her
To celebrate a birthday
To formalize a proposal
To be forgiven
For an occasional event
Or simply to offer an unforgettable romantic gift!
Our writers are available to write for you the poem of your dreams corresponding to your desires: you will determinate the content of your poem, its form, its length and its style and we will give you a tailor-made poem. The more precise you will be about the specifications of the love poem you want to declare to your beloved, the more it will be possible for us to create a unique love poem, fitting your personal story, and the greater the surprise will be for your beloved and you will have a guaranteed success. Otherwise, to book a tailor-made poem is for every person, every budget! This is the romantic idea par excellence, that's why we offer to you the best price, because we offer the possibility to book a romantic poem written by a professional with a fixed number of lines, whatever the type of poem you will choose.
Book a tailor-made love poem
If you want to offer a love poem to your beloved to celebrate a special event or simply make a romantic surprise and prove your love, don't hesitate to write us with the details of your project at the following address: . We call attention to the fact that it will be unfortunately impossible to have information about the writing of your love poem by phone, because our duty office team can advise you on evenings and romantic surprises in Vienna, but they can't give information about the poem writing procedures. If you want an appointment with one of our professional writers and poets, please let us know in your e-mail. Thank you for your understanding.