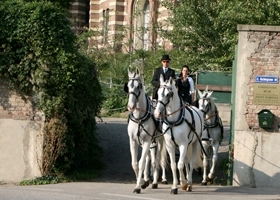 Romantic rides in old horse-drawn carriage through Vienna
You wish to plan for your beloved an unforgettable date mixing refinement and nostalgia to discover Vienna? Then the team of Romantic ideas recommends a romantic promenade in an old horse-drawn carriage through the streets of the city of Vienna and in the Prater park!
Linked forever to the city of Vienna, the Viennese horse-drawn carriage became one of the most important symbols of the Austrian capital. In the past, it was a mean of transport for short distances and excursions around Vienna, nowadays it has a tourist vocation. But do you know that we can rent a carriage not only to take part in a ride in the old town, but also for a romantic ride at twilight?
A romantic ride in an old carriage
A romantic ride in a Viennese carriage includes the following services:
A ride during about two hours in an old carriage
A ride through the streets of the old town of Vienna and in the Prater park
A bottle of chilled champagne served with two glasses
A warm cover in the carriage
A window that we can lock and a coachman very discreet for a romantic ride with privacy
The horse-drawn carriage rides offered by the team of Romantic ideas respect the tradition following the old "road of the porcelain", where the most important wasn't the direction but the way the carriage was driven: the most slowly possible with caution in order not to break the porcelain. Let's make an unforgettable surprise to your beloved or offer a stunning gift to a couple of friends thanks to a gift token!
Book a romantic ride in a horse-drawn carriage
The best way to book a romantic ride in a carriage is to fill in and send us our booking form. Please fax us or email us this complete form, dated and signed, to the fax number or email address on top of the page. These romantic rides in horse-drawn carriages are available all year in every season and can be booked for the date of your choice. Following your order, you will receive a reconfimation with all details for an unforgettable romantic night!
For any question about romantic rides in carriage, the teams of Romantic ideas and of the tour operator City Tours are available by phone at +43 1 966 02 61 or anytime by email at the following email address: .